Recent Injury or Accident at Work near Howard Beach Queens
Best Foot Doctor NY offers podiatry care for patients searching for a no fault and workers comp foot doctor in or near Howard Beach Queens.
FREE consultation. Call today: (718) 504-5778 or ask the doctor a question here.
If you have recently been injured or in an accident at work, you have come to the right place. You need care that is personalized to you from a provider that will work with your employer and workers' compensation (workers' comp) insurance. Before scheduling an appointment with a foot doctor in or near Queens NY, confirm that they will accept your insurance and communicate with the office that your employer will be filing workers' comp. 
Most employers are legally required to provide no-fault and workers comp insurance. This covers medical expenses for employees who are injured on the job, provided the accident was not intentionally caused by an employee. If the injured employee is found to be intoxicated or otherwise under the influence of drugs they forfeit their right not workers' comp. "No fault" indicates that the employee does not have to prove in a court of law that their injury was due to workplace hazards. 
You are a valued member of society and your employer has the responsibility to make provisions for you if you are injured on the job and unable to work for an extended period of time. No fault and workers' comp insurance also covers a partial salary for an employee who is unable to return to a full workload due to an injury or accident on the job.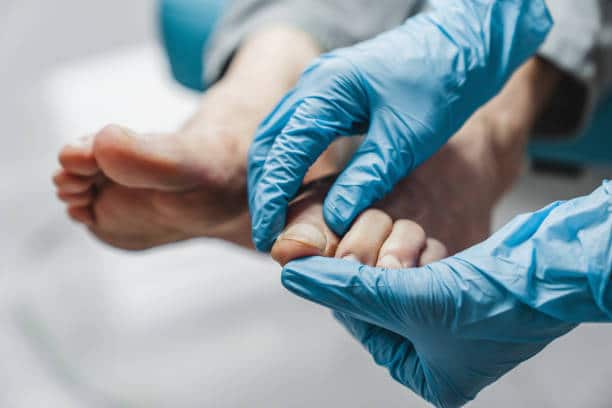 Common workplace accidents that require a podiatrist in Howard Beach Queens
Queens NY is home to many opportunities for employment. Unfortunately, all jobs carry risk for injury and accidents. Jobs with higher risk require workers comp with higher premiums. 
The following is a partial list of common workplace accidents the require a podiatrist in Queens NY: 
Falls that caused injury to the foot or ankkle

Lacerations on the foot or ankle

A twisted ankle or other joint

Broken bones below the ankle due to crushing injury

Burn on feet or ankle

Electrical shock
I've Been Injured in Howard Beach, What Do I Do Now? 
As soon as a workplace injury occurs, notify your employer and seek emergency medical care if needed. Your employer should give you a claim form to complete and return to them as soon as possible. They will then complete their portion of the form and submit it to the insurance company. It is prudent to keep all bills, reports, and any other paperwork you receive from your Queens NY foot doctor until the claim has been fully resolved. Keep in mind that you may need to sign a release giving the insurance company the right to view your medical records. If you have questions about your rights including the right to privacy under HIPAA talk to your podiatrist. 
How to Choose a No Fault and Workers' Comp Foot Doctor in or near Queens NY
There are many factors to consider as you make decisions for your medical care. Most importantly, you need a team of medical professionals that are knowledgeable and caring. When it comes to specialities such as podiatry, finding a podiatrist in Queens NY that specializes in your condition is also paramount. Also take into account the attitude and care of the medical team and the level of professionalism and degree of innovation found at the facility that you are going to. Convenience is also an issue, and you can find a Best Foot Doctor NY location in or near Queens NY. 
In addition to all of this, financial support is a factor for every patient. Before you schedule your first appointment, learn whether or not the podiatrist accepts your insurance. If you have been in an accident, regardless of who is at fault, Best Foot Doctor NY is here for you. Contact us today and rest assured that you have chosen the best podiatrist in Queens NY.
Legal Disclaimer
Disclaimer: The information provided in this blog article is for general informational purposes only and should not be construed as legal advice or a substitute for obtaining professional legal counsel. The content presented herein is not intended to create, and receipt or viewing does not constitute, an attorney-client relationship. Readers are advised to consult with a qualified attorney or legal professional in their jurisdiction for advice on specific legal matters. The author and publisher of this blog article expressly disclaim any and all liability with respect to actions taken or not taken based on the contents of this article.
Powered By SwarmSEO